Podemcrane/Podem is one of the world's leading suppliers of crane components, intended for crane manufacturers as well as for end users.
Podemcrane – the successor of Podem, it the biggest wire rope electric hoists manufacturer in Central and Eastern Europe. In its history the company has sold over 1 900 000 electric wire rope hoists in more than 40 countries and has 50 year's experience in designing lifting mechanisms.
The quality of Podemcrane's products is ensured by the integrated management system ISO 9001:2008 and OHSAS 18001:2007.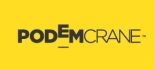 ¿No encontró lo que busca?
¡Envíenos un pedido por aquí y nos enforzaremos a descubrir la máquina que Ud. necesita!